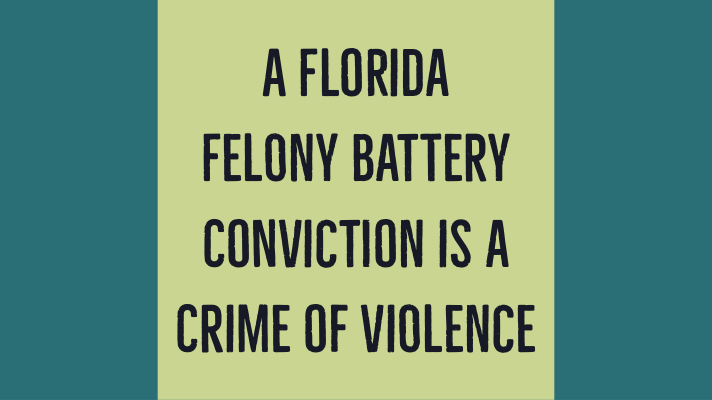 Although a relatively recent United States Supreme Court decision held that a conviction for simple battery in the State of Florida could not serve as a crime of violence, an Eleventh Circuit Court of Appeal decision distinguished that a felony battery conviction is a "crime of violence," at least for purposes of the Federal Sentencing Guidelines.  This means that a conviction for a Florida Felony Battery is probably a deportable offense as a crime involving moral turpitude and as an aggravated felony, if the sentence is 1 year or more incarceration.
---
What is Felony Battery in Florida? 
---
Florida's Felony Battery statute is defined in Florida Stat. §784.041.  In order to prove a person is guilty of Felony Battery, the State must prove, or the person must admit to (plead no contest of guilty) to the following elements:
actually and intentionally touching or striking another person against the will of the other (simple battery), and
causing great bodily harm, permanent disability, or permanent disfigurement.
So, Florida's Felony Battery statute is simply "simple battery" with great bodily harm, permanent disability, or permanent disfigurement.  The State does not have to prove that you intended to cause the great bodily harm, permanent disability, or permanent disfigurement.  They simply must prove that you intended to touch or strike the person against their will and the injury was a result of that touching or striking.
---
How can "Felony Battery" be a "Crime of Violence" when "Simple Battery" is not?
---
While the United States Supreme Court held that a conviction under Florida's simple battery statute was not a crime of violence, the Eleventh Circuit held that the second element of the Felony Battery statute brought it within the purview of the crime of violence definition.  A "crime of violence" requires physical force, according to the U.S. Supreme Court's decision in Curtis Johnson.  The term "physical force" was defined to mean "violent force" or force capable of causing physical pain or injury to another person.
So, the issue is whether a simple touching of another person that unintentionally causes great bodily harm, permanent disability, or permanent disfigurement is a crime of violence.  The Vail-Bailon Court discussed this issue and determined that Florida courts require a touch or strike sufficient to inflict great bodily harm, while a simple battery simply requires an unwanted touching.
The Court dismissed the argument that a person could be convicted of Felony Battery in Florida by tickling the victim who then falls out of window, or touching a person on the shoulder who then loses balance and falls and injures himself or herself by falling down a staircase, or applies a lotion to a victim who has an allergy unknown to the person who applied the lotion.  The Court found that these were scenarios where the statute had never been applied.
---
Does this case apply to immigration cases?
---
Although this Court's decision specifically addressed the Federal sentencing guidelines as it applied to a Federal criminal case, the analysis is applicable to whether a Florida Felony Battery conviction is an aggravated felony, for immigration purposes.  Any person who is not a United States citizen and is convicted of an aggravated felony is deportable.  Aggravated felonies are defined in the Immigration and Nationality Act under section 101(a)(43), which includes any "crime of violence" where the person is sentenced to a year or more of incarceration.  So, if you are convicted of a Felony Battery and sentenced to 1 year or more of jail or prison, then you would be deportable for an aggravated felony.
---
If you are charged with a felony battery in the State of Florida and you are not a United States Citizen, you should not plead guilty or no contest without first speaking to an experienced immigration attorney who has experience with Florida criminal matters.  
---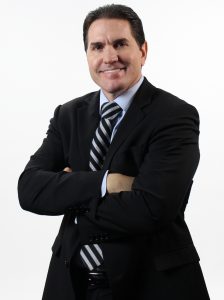 Jeremy Lasnetski is a partner at the Law Offices of Lasnetski Gihon Law.  The firm focuses on criminal defense, immigration and personal injury. Mr. Lasnetski focuses his practice on immigration and criminal defense.  Mr. Lasnetski is the former Jacksonville Regional Vice Chair of the American Immigration Lawyer's Association, Central Florida Chapter and has represented clients in deportation proceedings, USCIS benefit cases, consular processing cases, and more.  He routinely gives presentations on immigration law issues to both criminal and immigration lawyers at conferences and seminars throughout the State of Florida.