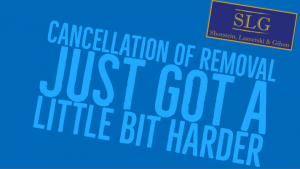 A new Board of Immigration Appeals decision, Matter of J-J-G, 27 I&N Dec. 808 (BIA 2020) has made it more difficult for foreign nationals to obtain Cancellation of Removal.  Cancellation of Removal is a form of relief from deportation where the foreign national, even if he or she entered the United States without any papers, has been in the United States for 10 years or more, has had good moral character for 10 years, has not been convicted of certain crimes, warrants a favorable exercise of discretion, and finally, has a United States citizen or lawful permanent resident spouse, parent or child that would incur exceptional and extremely unusual hardship if the foreign national were deported.  This form of relief is extremely valuable for many people who entered the United States a long time ago without papers.  In fact, if the Immigration Judge grants the cancellation of removal, the foreign national will get a greencard.  So, why did it just become more difficult to get Cancellation of Removal?
---
How do I get Cancellation of Removal?
---
Cancellation of removal is a form of relief from deportation only available in Immigration Court.  That means that you can't apply for it unless you are already in removal (deportation) proceedings.  For many foreign nationals who have no options available to them to apply for affirmatively, cancellation of removal in immigration court can be a godsend. Once you are in Immigration Court, you would apply for Cancellation of Removal by submitting form EOIR-42B and applicable evidence.  The Immigration Judge would schedule your case for an Individual Hearing, which would be like a bench trial before the judge where you would present witnesses and evidence.  Lawful permanent residents would submit Form EOIR-42A and applicable evidence.  Lawful permanent residents do not have to establish that their removal would result in Exceptional and extremely unusual hardship, so this blog and the J-J-G case applies only to nonpermanent residents.