Although no announcement has been forthcoming, the worst kept secret in the American political arena is the impending run of Florida Governor Ron Desantis for office the President of the United States.  As he ratchets up support to begin his battle with Donald Trump during the Republican primary, Governor Desantis has pushed through a bill in the Florida House and Florida Senate that looks a lot like federal congressional legislative action.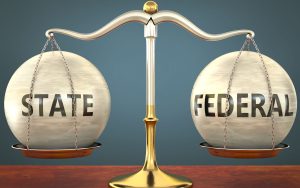 HB 1718/SB 1718, colloquially known as Florida's immigration bill, or Florida's anti-immigration bill (depending on who you ask), passed both houses of Florida's government and is expected to become the law of the land in Florida on July 1, 2023. Supporters say it gives teeth to federal laws immigration laws that are being ignored by the current administration.  Detractors say it usurps federal authority, negatively impacts Florida communities, and will have a chilling effect on vulnerable people who need medical attention.  So what does the law actually say? 
Florida's new immigration law isn't really just one new law.  It is actually a conglomeration of laws adding and subtracting from different existing statutes all aimed at achieving the same goal: targeting individuals who are in the State of Florida who do not have any lawful immigration status.