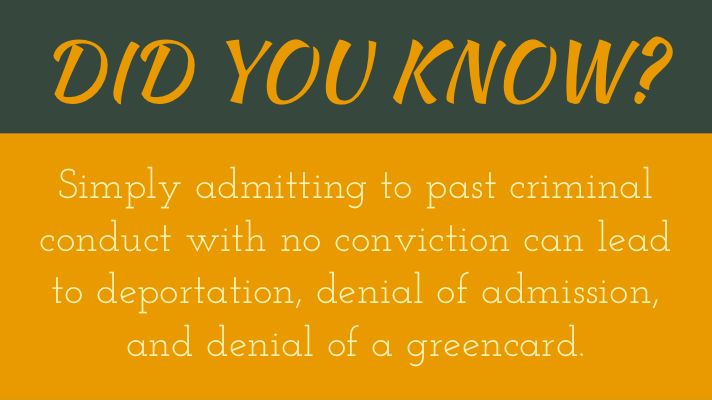 Did you know that the mere admission of past criminal conduct can lead the government to deny your admission into the United States.  It can lead to a denial of a green card.  It can lead to deportation.  Many unsuspecting people believe that admitting to minor criminal conduct that happened years in the past will be forgiven by immigration officials. That cannot be further from the truth.
---
Why would they deny my admission or deport me for simply admitting to past criminal conduct?
---
§212(a)(2)(A)(i) of the Immigration Act states that, "any alien…who admits having committed, or who admits committing acts which constitute the essential elements of … a crime involving moral turpitude…or an attempt or conspiracy to commit such a crime…or a violation of any law…relating to a controlled substance…is inadmissible."  This means that no conviction is required.  Therefore, if you admit to committing certain crimes, you are inadmissible and  you must seek a waiver to be admitted into the United States, or to be able to get a greencard, or to be able to stay in the U.S.