Getting a green card for yourself or a loved one can be a confusing and complicated process. Many people struggle to navigate the ins and outs of the green card application process without the assistance and guidance of an experienced immigration attorney.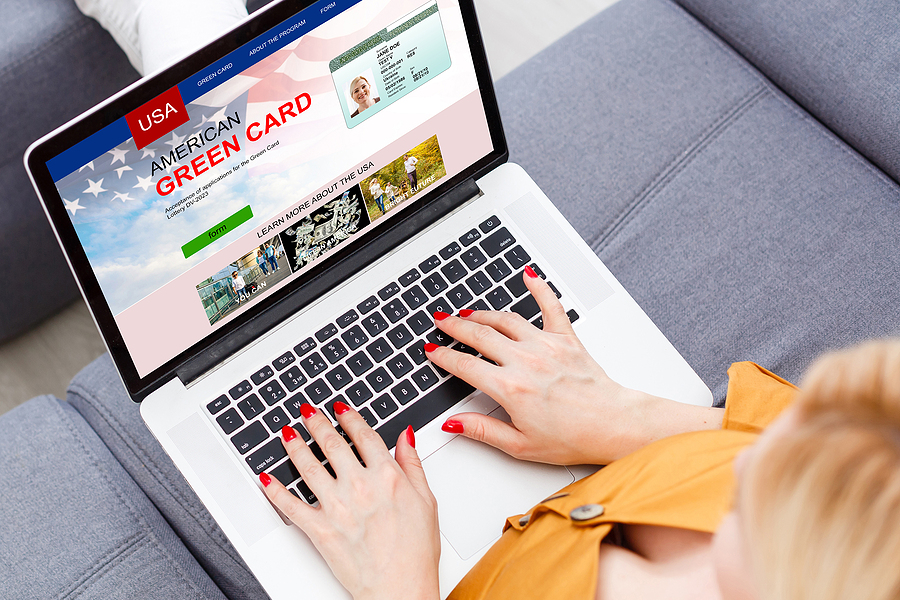 Mistakes can be made in the application process, and cause delays in the individual getting approved for a visa. Some may not be sure which type of green card or visa they need to seek.
Several different types of green cards are available for individuals coming into the United States, including work or employment-based visas and family-based visas.
Family-based green cards can be grouped into two major categories: immediate relative and family preference categories. Applications under each of these groups are treated differently. Ultimately, it is the relationship between the person applying for the visa and the beneficiary of the visa which will determine how the application is handled.
Immediate Relative Immigrant Visa
An immediate relative immigrant visa (IR) is issued to close relatives of someone who is a U.S. citizen. Unlike other types of green cards, the U.S. government does not limit the number of IR visas issued in a year. Within this category are several other subcategories, depending on the relationship of the person to the U.S. citizen, including the following categories:
IR-1: Spouse of a U.S. citizen,
IR-2: Unmarried child under the age of 21 of a U.S. citizen,
IR-3: An orphan child adopted abroad by a U.S. citizen,
IR-4: An orphan child who will be adopted in the U.S. by a U.S. citizen, and
IR-5: A parent of a U.S. citizen above the age of 21 years old.
Family Preference Immigrant Visa
The second category of family-based green cards is known as the family preference immigrant visa. Unlike the immediate relative category, the government does put yearly limits on this type of visa.  Once the number of applications approved reaches the limit, the remaining applicants are put on a waiting list. How long they are on the wait list can be anywhere from months to years, depending on the number of back-logged applications in each category. Like the immediate relative category, the family preference immigrant visa category can be broken up into several subcategories, including the following:
Family First Preference (F1): This category is reserved for unmarried sons and daughters of U.S. citizens, including their minor children. Only 23,400 visas are issued annually to applicants in the F1 category.
Family Second Preference (F2): F2 visas are issued for spouses, minor children, and unmarried sons and daughters who are 21 years or older of lawful permanent residents in the U.S. Only 114,200 F2 visas are issued annually. Additionally, up to 77 percent of family-based green cards within this category go to spouses and children. Anything left in this category is allocated to unmarried sons and daughters over the age of 21.
Family Third Preference (F3): F3 visas are reserved for married sons and daughters of U.S. citizens, including their spouses and minor children. The annual limit for these visas is 23,400.
Family Fourth Preference (F4): F4 visas are reserved for brothers and sisters of U.S. citizens, including their spouses and minor children. However, to qualify, the U.S. citizen must be at least 21 years old. The U.S. caps these visas at 65,000 annually.
Timeline for Family-Based Green Card Processing
Since immediate relative visas have no cap, they are easily available for applicants. Normally, immediate relative visas take anywhere from five to twelve months to process. As soon as the I-130 petition is filed by the U.S. citizen and is approved by the USCIS, the beneficiary of the visa will receive his or her visa number relatively soon.
For visas for other family members of U.S. citizens, once the I-130 application has been approved, the applicant will need to wait until a visa number is available for him or her, which can vary in terms of waiting times. Sometimes, the wait can be one to two years, while for others, it can take up to five to ten years.
Numerical Limitations for Family Preference Green Card Applications
While immediate relative visa applications are not limited, family preference green card applications are limited. It is not unusual for the number of qualified applicants to be higher than the number of visas available under each category. Normally, visas are issued to applicants in the order in which the petitions are submitted.
Several factors are considered when determining something called a "priority date" for visa applicants. These factors include the annual cap for the category, the filing date of the petition, and the country of origin. The green card priority date is the date the USCIS receives the applicant's I-130 petition. The applicant will find his or her priority date on the I-797, Notice of Action, received from the immigration agency, which informs them of the I-130 approval and is mailed to you by the USCIS. A priority date becomes known as "current" when the date matches or passes the "final action date" posted in the most recent visa bulletin issued by the Department of State.
Employment-Based Visas
Only 140,000 employment-based visas are available to qualified applicants every fiscal year, which runs from October 1 to September 30. Similar to family-based visas, employment-based visas are also grouped into a number of categories, which include the following:
Employment First Preference (E1): Priority Worker and Persons of Extraordinary Ability:
Individuals within this category include individuals with extraordinary ability in the sciences, arts, education, business, or athletics. Proof of this extraordinary ability must be properly submitted via qualified documentation.  Outstanding professors and researchers with at least three years of experience in teaching and research are also included in this category, as well as multinational managers and executives who have been employed for at least one of the three most recent years by the overseas affiliate, subsidiary, parent, or branch of a U.S. employer.
Employment Second Preference (E2):
Individuals in this category must have a labor certification approved by the Department of Labor. Not only is a job offer required, but the U.S. employer must also file a Form I-140, which is an Immigrant Petition for Alien Workers. Within this category are two subgroups, including professionals holding an advanced degree and at least five years of experience in their profession and persons with exceptional ability in the sciences, arts, or business.
Employment Third Preference (E3):
Workers in this third category must be considered skilled workers, professionals or unskilled workers who have an approved Immigrant Petition for Alien Worker Form I-140 filed by the person's prospective employer. Individuals in this group make up 28.6 percent of the annual worldwide limit of employment-based immigrant visas. Three subcategories exist in this group, including skilled workers whose jobs require at least two years training or work experience, members of professions who require at least a baccalaureate degree from a U.S. university or its foreign equivalent, or unskilled workers capable of filing job vacancies that require less than two years of training or experience.
Employment Fourth Preference (E4):
Individuals in the fourth category must be the beneficiary of a Petition for Amerasian, Widow(er) or Special Immigrant Form I-360, as well as certain employees or former employees of the U.S. government abroad. Special immigrants receive 7.1 percent of the yearly limit of employment-based immigrant visas.
Employment Fifth Preference (E5):
Visas through this category are intended for capital investment by foreign investors in new commercial enterprises in the U.S., which are intended for job creation in the country.
Backlog of Visas Applications
Currently, there is a surplus of employment-based green cards available this year, which has put pressure on immigration agency officials to issue all available visas before the end of this fiscal year.
According to USCIS, more than 66,000 employment-based green cards were wasted last year due to the number of applications backlogged because of the pandemic and due to an unprecedented number of petitions submitted for work visas.
Currently, USCIS is facing an immense workload of 280,000 green card applications in comparison to the 262,000 in 2021. They say they are still planning on issuing all available work visas before September 30, 2022, which is the end of their fiscal year.
Family-based visas also faced a bit of a backlog due to pandemic pressures. In fact, many family-based visa applications were not processed by the State Department during the last fiscal year rolled over to the next year into the employment-based category, which has the cap of 140,000 visas annually.
According to USCIS, they issued 180,000 green cards last year, which is more than they normally issue in a typical year. However, they were still well below their total available number.
In fact, the previous failures of the USCIS to process visas before the end of their fiscal year led to a group of Chinese and Indian visa applicants to sue USCIS in federal court, recently. Their complaint stated that USCIS created a 'self-made crisis" due to the lengthy adjudication process they impose on all applications.  However, as of mid-June, USCIS had issued more visas this year than they had at the same point last year.
To ensure that applications move through quickly, USCIS have shifted some of their staff resources away from other immigration services towards solely processing green card applications.
USCIS has begun utilizing a "risk-based approach" to waive certain interview requirements. They have also encouraged applicants to submit all necessary medical forms as soon as their applications are submitted.
Immigration Law Services in Orlando and Jacksonville
Providing Personalized Service for Immigration Cases
If you are seeking a green card or helping a family member obtain one, it makes all the difference to have attorneys knowledgeable in immigration law to help you navigate the complex legal process. The dedicated and experienced immigration law attorneys at Lasnetski Gihon Law are here to stand by your family's side through the process. Don't delay! Contact us today at 904-542-3332 (Jacksonville) 407-228-2019 (Orlando).
Sources:
Family of U.S. Citizens | USCIS