When applying for a green card, whether the application be for a marriage green card or an immediate relative, you should assume that the U.S. Citizenship and Immigration Services (USCIS) will conduct a thorough background check.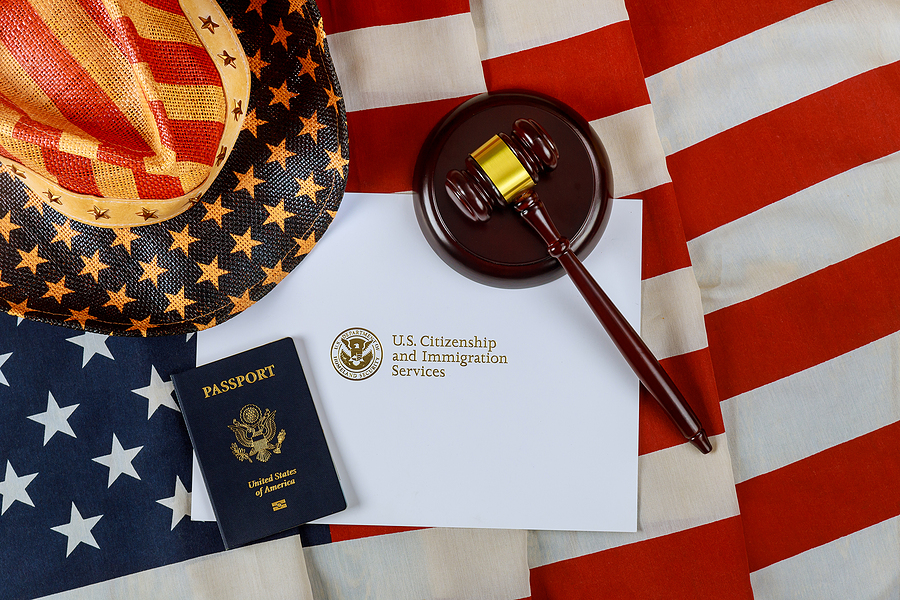 Filing an accurate and thorough green card application is all the more important if you have a criminal history.
USCIS will conduct a criminal background check not only on the green card applicant, but also the sponsoring U.S. citizen or the green card holder who is sponsoring his or her family member attempting to receive a green card.
This criminal background check will look for every interaction the applicant had with law enforcement in both the person's home country as well as in the United States.
Honesty is Key
When completing the green card application, it is important to be honest when providing information to USCIS. Not disclosing a criminal conviction or an arrest will look worse than disclosing it and being honest about the circumstances behind the arrest or conviction.
Lying on an immigration form can make you ineligible for a green card. Even if the charges were later dismissed or if your criminal record has been expunged, be sure to mention all times you were cited, arrested, or charged with a crime.
If you have a criminal record, you can still get a green card. Not all criminal charges will make getting a green card impossible. Only certain types of convictions will make a person inadmissible or deportable, which includes, but is not limited to:
Aggravated felonies,
Crimes involving "moral turpitude," and
Crimes involving illegal drugs.
Even if you do have one of these crimes on your record, you may be able to successfully petition for a waiver of inadmissibility and still receive a green card.
What is a conviction?
A criminal conviction is considered relevant in terms of green card applications. For purposes of this context, a "conviction" refers to any outcome where you were either found guilty by a court or where you admitted guilt through a plea bargain. A "withhold of adjudication" is considered a conviction for immigration purposes.  Even a conviction that was later reopened and then dismissed can be considered a conviction under certain circumstances.
Aggravated Felonies
An aggravated felony will make you ineligible for receiving a green card. Under U.S. immigration law, an aggravated felony is a little different than what would be considered an aggravated felony in criminal law. For green card applicants, aggravated felonies are a list of crimes that the U.S. Congress has determined will make someone inadmissible to the U.S. as an immigration. It can be misleading because some crimes that are considered aggravated felonies under immigration law are only misdemeanors in the criminal arena. Some of the crimes that are considered to be aggravated felonies include:
Drug trafficking,
Filing a false tax return,
Fraud with loss in excess of $10,000,
Crime of Violence with imprisonment of at least a year,
Theft with imprisonment for at least a year,
Murder, and
Sexual abuse of a minor.
Crimes of "Moral Turpitude"
Crimes of "moral turpitude" generally refer to crimes that were committed with "evil intent." Evil intent can mean intent to defraud someone or intent to inflict bodily harm. Unlike the previous category, this one can be a little more subjective. It can depend highly on the circumstances and what USCIS determines to be a crime of moral turpitude. Typically, these crimes include one of the following:
Rape,
Fraud,
Animal abuse or animal fighting, and
Murder
The USCIS has determined that certain crimes do not involve moral turpitude, including the following:
Breaking and entering,
Simple assault, and
Joyriding.
Drug Crimes
Most drug-related criminal conviction will make the applicant ineligible to receive a green card. This includes convictions that were for possession of an illegal substance or for drug use. The Immigration and Nationality Act (INA) does make an exception for drug convictions for possession of less 30 grams or less of marijuana for the person's own personal use. Even if you fall under the exemption, you will still need to apply for a waiver to be eligible for a green card.
Properly Responding to Criminal History Questions
All green card applicants, including those who are already inside the United States, need to answer the questions about criminal history. Applicants who are inside the United States will need to complete these questions on the Form I-485, Application to Adjust Status. If you are applying for a green card through a U.S. embassy outside of the United States, these questions will be answered on the Form DS-260, the Immigrant Visa Application. Both forms have essentially the same criminal background questions.
These forms have approximately 20 questions relating to criminal history. They start with asking whether you do have any criminal history, as well as asking whether the applicant plans to commit any kind of crime in the future. Questions will focus mainly on issues relating to drugs, human trafficking, prostitution, and money laundering.
Read each question carefully and respond to them fully and truthfully. All crimes must be disclosed, including those occurring in the applicant's home country and in the U.S.
If you answer any of the questions with a "yes," you should expect that you will need to provide more information, including details regarding when and where the crime occurred, whether you were arrested, charged, or convicted, and the final disposition of the case. USCIS will want official documentation regarding your criminal record and each crime disclosed. This documentation can include an official statement from the police department where the arrest or citation occurred, copies of charges against you, discharge or expungement paperwork, and records from the court or police department showing how the case was resolved. Disclose arrests or charges that were ultimately dismissed, as well. These will not be held against you in the application process, but you should still plan to be forthcoming with the information.
Waiver of Inadmissibility
Some situations exist where you can apply for a "waiver of inadmissibility" to have your criminal history excused during the application process. USCIS will be looking closely at whether your admission to the country will endanger anyone, and in spousal applications, they will look to whether your U.S. citizen spouse or valid green card holding spouse would experience "extreme hardship" if you are not allowed to live in the U.S.
Not all crimes can be excused with a waiver. Drug convictions do not receive waivers, with the exception of a drug conviction for simple possession of less than 30 grams of marijuana for personal use. Waivers are also strictly prohibited for crimes of murder or torture.
If you are applying for a green card while in the U.S., you can file your waiver of inadmissibility request concurrently with your green card application. You can also submit the waiver request while your application is being processed or, alternatively, at the green card interview. Waiting to file it until after the application has been submitted may delay the process, however, which is why it is recommended you submit the waiver request concurrently with the application.
If you are applying for a waiver of inadmissibility from outside of the country, you will need to apply for the waiver during your green card interview at the U.S. embassy or U.S. consulate.
Subsequent Deportation
Certain crimes can put you at risk for deportation, even if you have been approved for a waiver or even if you have been approved for a green card.
Felonies that are considered aggravated ones can result in deportation. These crimes are serious in nature and include murder, rape, sexual assault of a minor, drug offenses, firearms or explosive trafficking, money laundering, or any violent crime with a punishment of at least one year imprisonment. Aggravated felonies that can result in deportation also include theft or burglary where the punishment is at least one year of imprisonment.
A waiver may be sought under the INA to prevent deportation. However, a waiver is not permitted for certain crimes, including murder, torture, or drug trafficking offenses. If you are already in the country and are convicted of one of these crimes, you are subject to deportation. If that is the case, waivers are the only way to defend against possible deportation.
The specific waiver involved is a 212(h) waiver, and it can be granted if you can establish that:
The crime happened over 15 years before you applied for a green card, entry, or adjustment of status,
Your admission to the U.S. would not be contrary to the nation's welfare, safety, or security, and
You have been rehabilitated.
Ultimately, the decision rests with USCIS as to whether a waiver will be granted, and deportation does not occur.
Inadmissibility
Arguing that a crime is inadmissible is a little bit broader in scope than the waiver that is needed to prevent deportation. Keep in mind that USCIS will be less likely to grant a waiver of inadmissibility if they find you have not been honest and forthcoming in your application. Therefore, it is imperative that you be as honest and accurate as possible in answering all criminal questions and providing documentation to back up each claim made in the application.
Seeking Legal Assistance
It is important to understand that a criminal record does not automatically mean all hope is lost and you will not be approved for a green card. The green card application may still be approved, but it may take a little more work and time. If you have any criminal, you should consult an experienced immigration attorney about your options. An experienced Orlando immigration law attorney will be able to walk you through the application process, including requesting a waiver of inadmissibility, if applicable, and will be able to help you prepare thoroughly for your interview with immigration.
Immigration Law Services in Orlando and Jacksonville
Many people believe that if a person is inside the United States without legal status (without papers), they will be automatically deported.  This simply is not true.  Most people, regardless of how they entered the United States, are entitled to appear before an Immigration Judge.
The attorneys at Lasnetski Gihon Law have an extensive background in both deportation defense and criminal law. Very few immigration attorneys understand criminal law and very few criminal attorneys understand immigration law. Jacksonville immigration lawyer Jeremy Lasnetski understands both. Whether your deportation case involves a criminal conviction or not, we can help you. Orlando immigration lawyer John Gihon focuses on deportation defense in immigration court.  He is a former ICE Attorney who understands how the immigration system works from the inside. He focuses on deportation cases, and he appears before the Orlando Immigration Court on a daily basis.
Providing Personalized Service for Immigration Cases
If you are seeking a green card or helping a family member obtain one, it makes all the difference to have attorneys knowledgeable in immigration law to help you navigate the complex legal process. The dedicated and experienced immigration law attorneys at Lasnetski Gihon Law are here to stand by your family's side through the process. Don't delay! Contact us today at 904-542-3332 (Jacksonville) 407-228-2019 (Orlando).