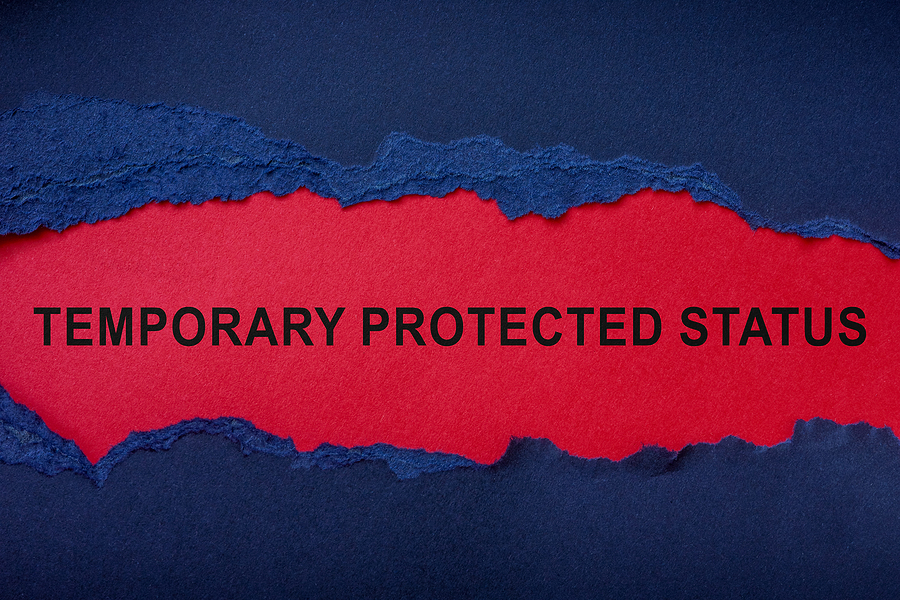 The Biden administration has extended the Temporary Protected Status (TPS) program, providing approximately 143,800 immigrants from Afghanistan, Ukraine, and Cameroon additional protections, allowing them to remain temporarily in the United States.
The TPS program gives immigrants from these countries the chance to apply for time-limited permission to live and work in the U.S. and avoid deportation.  This program is overseen by the U.S. Department of Homeland Security (DHS).
To be covered by the TPS program, immigrants must apply through DHS. The TPS program offers temporary protection from being deported for qualifying immigrants who are residing in the U.S. and came here from designated countries that are otherwise deemed unsafe to return. These unsafe conditions could be because of war, hurricanes, earthquakes, or any other potentially hazardous circumstances in those countries.
The TPS program was authorized by President George H. W. Bush in 1990 through a law that granted the White House executive power to designate and extend protected status to immigrants in the United States on certain conditions.
After DHS designates a country's immigrants as eligible for TPS protection, immigrants from these countries who entered the U.S. without authorization or entered legally on a temporary visa that has since expired can apply for this relief and avoid deportation. Immigrants who are here in the U.S. who are in the country legally with a valid temporary visa or other non-immigrant status, including foreign students, can also apply for TPS.
TPS protections are issued for up to 18 months at a time and are exclusively based on the conditions in the applicant's home country. If the dangerous conditions continue to exist after 18 months, TPS status can be extended.
To successfully apply for TPS, applicants must meet the filing deadlines given by DHS, pay a fee, and prove that they have lived in the U.S. continuously since the events that officially made them eligible for TPS. Applicants must also meet certain criminal record requirements to be eligible. They cannot have been convicted of any felony or two or more misdemeanors while in the U.S. They also must not have persecuted others or have engaged in any acts of terrorism while in the country. Otherwise, they will lose eligibility for TPS.
If an immigrant's TPS designation is going to expire, federal officials must announce this decision 60 days before the designation expires. If no decision is made regarding an extension, the TPS designation extends another six months.
Recently, DHS had extended TPS protections for immigrants from Myanmar, South Sudan, Sudan, Syria, and Venezuela. However, this current extension of protection issued by Biden will affect TPS recipients until October 2023, if they are not extended again at that time.
Biden's recent expansions of TPS protection broadens the protections that have been in place since 2021. At the start of Biden's presidency, DHS added two countries, Myanmar, and Venezuela to the list of countries whose immigrants may apply for TPS protection. DHS also extended the terms of countries that were already covered by the TPS program.
Biden's expansion of TPS protections stands in stark contrast to the treatment the Trump administration gave this program. In fact, during his term as president, Trump worked hard to attempt to end the TPS program for essentially all qualified applicants. However, these efforts to end the program were blocked by a number of lawsuits filed.
An estimated 150,000 immigrants are newly eligible for TPS protection for the first time, including applicants from Afghanistan, Cameroon, and Ukraine. According to figures from the Pew Research Center, approximately 72,500 Afghan immigrants would qualify for protection while 11,700 individuals from Cameroon would qualify. The date required for when Afghanistan immigrant came to the U.S. would be March 15, 2022, and their protection under TPS designation would expire on November 20, 2023.  To qualify for TPS protection, immigrants from Cameroon would need to have come to the U.S. as of April 14, 2022, and their protection would expire on December 7, 2023. Additionally, a total of 59,600 Ukrainian immigrants would qualify as a new TPS designation, so long as they were here in the U.S. as of April 11, 2022, with the protection expiring on October 19, 2023.
With the Biden administration's extension of the program, DHS believes there are approximately 500,000 individuals from 15 different countries who would either be currently registered for TPS protection or are newly eligible for this protection.  This list would include immigrants from the following countries: Afghanistan, Cameroon, El Salvador, Haiti, Honduras, Myanmar, Nepal, Nicaragua, Syria, Somalia, South Sudan, Sudan, Ukraine, Venezuela, and Yemen.
Many of the immigrants in the U.S. under the TPS program have been in the country for over two decades. After Hurricane Mitch hit in 1998, immigrants from Honduras and Nicaragua were designated eligible for TPS protection. Additionally, immigrants from El Salvador were designed eligible after a number of earthquakes hit their country, killing more than a thousand people, and causing significant and widespread damage in 2001.
Countries Currently Given TPS Designation:
Afghanistan: Afghan immigrants are eligible for TPS protection due to the turbulent political conditions in their home country. The country has continued to experience armed conflict due to Taliban involvement, and because of this, DHS has determined that the "leadership" of the Taliban is unfit to maintain meet the country's challenges when it comes to safety of the country's residents, the national economy, healthcare, food security, and human rights. DHS estimates that nearly 72,500 Afghans are eligible to apply for the TPS program.
Cameroon: The new TPS designation for Cameroon has to do mostly with the extreme violence occurring between governmental forces and armed separatists, including the terrorist group Boko Haram and other vigilante groups. Because of the violence, thousands have died, and hundreds of thousands of Cameroonians have been displaced. DHS believes that around 11,700 people from Cameroon will be eligible for TPS protection.
Ukraine: Due to the full-scale invasion by Russian in Ukraine, the Biden administration has designated immigrants from Ukraine as eligible to receive TPS protection. The invasion has led to nearly four million people to flee from Ukraine for refuge. Russian forces have destroyed hospitals, businesses, and schools, and unfortunately, this invasion is not looking like it will be ending any time soon. DHS estimates that around 59,600 Ukrainian immigrants in the U.S. are eligible for this designation.
Myanmar: The Biden administration has recently extended and redesignated this Myanmar's status after February 1, 2021, following a military coup of Myanmar's democratically elected government. Once the military regime took over, they have caused ongoing human rights abuses. Currently, around 380 immigrants receive TPS under the original designation issued by DHS. Under the new eligibility, DHS estimates that approximately 2,290 immigrants could qualify.
Sudan: DHS had originally issued designation for Sudan due to ongoing civil unrest and violence in the country, as well as economic downturn and the results of severe flooding. DHS has newly designated Sudan, giving immigrants from this country a TPS status until October 19, 2023. An estimated 3,090 immigrants are eligible to apply for relief.
South Sudan: South Sudan was originally given TPS designation due to the country's longstanding issues with armed conflict, including violence against the country's citizens, food insecurity, flooding, and civilian displacement. Currently, 75 South Sudanese immigrants receive TPS protection. DHS estimates that 235 individuals will be eligible under the extended designation.
Syria:  Syria has been a country long plagued with conflict. The country's original designation and continual redesignation has been due to the Syria's ongoing civil war and the country's dangerous living conditions. Civilians from Syria have fled their homes and their country due to destroyed infrastructure, food insecurity, water scarcity and the ongoing risk of death or injury from violence. According to the Congressional Research Service, around 3,910 Syrian TPS recipients are in the country from the previous designation. With the redesignation, it is estimated that 960 individuals are newly eligible for TPS.
Venezuela: Designation was given to Venezuelan immigrants in 2021 by the Biden administration due to the country facing a severe humanitarian crisis caused by an economic recession and political conflict. On July 11, 2022, Secretary of Homeland Security Alejandro Mayorkas made an announcement that DHS would be extending Venezuela's TPS designation. However, DHS is not redesignating the country, which would update the requirement for eligibility. This means that Venezuelan immigrants in the U.S. who are already receiving TPS could reapply to have their status extended to the new date of March 10, 2024.  However, the fact that this country has not been redesignated means that no new immigrants can apply for TPS. DHS reports show that only 40,400 of the 323,000 immigrants who were originally estimated to be eligible for TPS actually hold it, as of February 16, 2022.
Most recipients of TPS have lived in the U.S. for decades at this point. Immigrants with TPS protection live in all 50 states, as well as the District of Columbia and U.S. territories, according to figures from the Congressional Research Service.  Most of them currently live in Florida, California, Texas, and New York, which are areas that have traditionally had larger immigrant populations.
On the first day of his administration, President Biden asked Congress to pass legislation that would allow TPS recipients who meet certain conditions to immediately apply for green cards that would allow them to become legal permanent residents in the U.S. This legislation has been introduced in the House at this point.  Individuals who hold green cards may be granted citizenship if they pass additional background checks and meet the normal naturalization conditions of having sufficient knowledge of English and U.S. civics.  Currently, TPS recipients are not eligible to apply for permanent residency or U.S. citizenship unless they apply for citizenship through other means through the immigration process. The legislation proposed by Biden would change this fact and remove the roadblock that keeps TPS recipients from easily applying for U.S. citizenship.
Immigration Law Services in Orlando and Jacksonville
Many people believe that if a person is in the United States without legal status (without papers), they will be automatically deported.  This simply is not true.  Most people, regardless of how they entered the United States, are entitled to appear before an Immigration Judge.
The attorneys at Lasnetski Gihon Law have an extensive background in both deportation defense and criminal law. Very few immigration attorneys understand criminal law and very few criminal attorneys understand immigration law. Jacksonville immigration lawyer Jeremy Lasnetski understands both. Whether your deportation case involves a criminal conviction or not, we can help you. Orlando immigration lawyer John Gihon focuses on deportation defense in immigration court.  He is a former ICE Attorney who understands how the immigration system works from the inside. He focuses on deportation cases, and he appears before the Orlando Immigration Court on a daily basis.
Providing Personalized Service for Immigration Cases
If you are seeking a green card or helping a family member obtain one, it makes all the difference to have attorneys knowledgeable in immigration law to help you navigate the complex legal process. The dedicated and experienced immigration law attorneys at Lasnetski Gihon Law are here to stand by your family's side through the process. Don't delay! Contact us today at 904-542-3332 (Jacksonville) 407-228-2019 (Orlando).
Source:
How TPS eligibility has expanded under the Biden administration | Pew Research Center