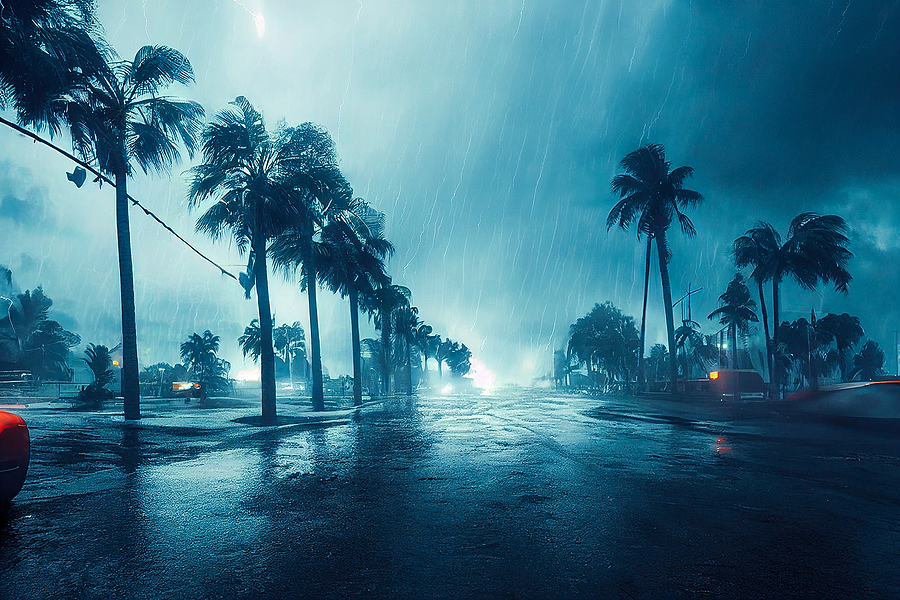 Hurricane Ian affected the lives of Floridians in countless ways. Homes were destroyed and many people's personal belongings were lost forever.  For individuals who are in the process of changing their immigration status, these losses have more than just sentimental value. The loss of certain personal items can have an adverse effect on their immigration case.
Loss of Government Documents
Some of these belongings lost due to the hurricane include important governmental documents needed to continue an immigration case. If you have lost any important government documents, many of these can be replaced. It is a matter of finding the proper agency or person to help you in replacing them.
The key is being able to prove who you are and where you came from in order to pursue or continue an immigration case. To do this, you need some type of government-issued photo identification. You will need to replace this ID if it has been lost in the storm. This replacement can be obtained at your local office offering driver license services or similar government office.
Certain documentation is needed if you are looking to replace your lost driver's license. This information may be found through the Florida Highway Safety and Motor Vehicles. The problem is some of the documents needed to replace your license or ID card may also be lost. These items can include a green card or form I-551, I-797, immigration judge's order granting asylum, W2, SSA-1099, Social Security Card, and proof of residence. Lost evidence of proof of residence can be obtained through your utility company, mortgage provider or landlord, or your employer.
Another important document needed for your immigration case is your birth certificate. The first step would be to contact the consulate for your home country, which may be located in Miami, Tampa, or Orlando. To get a birth certificate, you may also need to contact your home country or country of birth.
The ability to obtain many of these documents hinges on the type of immigration case being pursued. If you are pursuing a marriage-based green card case, a lot of the evidence that has been lost can be found online, such as from your bank or insurance company.
However, if the immigration matter involved is an asylum case, where you have been targeted for persecution or harm in your home country, it may be significantly harder for you to get copies of the documents needed.
The U.S. government, for the most part, has been understanding when it comes to issues in obtaining these documents.  If you are honest when explaining why you are having difficulty in obtaining key documents to support your case, it is possible they will provide you with an exception for providing these documents.
For the time being, a blanket extension has also been issued for immigration court deadlines for people in areas that were affected by Hurricane Ian.  For example, if you have a court date and you are either not able to make it or did not receive notice of a hearing because of Hurricane Ian, courts have said they will be more understanding in processing applications and in making determinations regarding deportation.
Fortunately, many immigration court cases are online, which makes retrieving lost court documents much easier.
We recommend that you consult a licensed immigration attorney if you need assistance in reconstructing your immigration case following Hurricane Ian. Also, make sure you reach out to the immigration court and be honest regarding your circumstances. The last thing you want to do is not contact them at all regarding your case. They will be understanding, but only if you ask for assistance.
Applying for Assistance
Immigration status can be one of the biggest hurdles for individuals who are in the middle of applying for legal residency in the U.S., especially when it comes to ask for aid. By asking for aid, they fear that they could be "outing" themselves as undocumented and risk deportation.
The American Immigration Council estimates that approximately 775,000 undocumented immigrants live in the State of Florida. This comes to around four percent (4%) of the total state population, which is a significant number of Floridians who need assistance but do not feel safe requesting it.
Additionally, according to the statistics from the Farmworker Association of Florida, around half of the 700,000 farm workers in our state are undocumented immigrants. Many of these individuals were hit hard by Hurricane Ian since the storm damaged so many crops. Without access to unemployment benefits or other social safety net programs, these workers are without an income and have lost work.  If they are undocumented, they may not qualify for Federal Emergency Management Agency (FEMA) aid or other federal money. Their status often prevents them from coming forward to ask for help out of fear of being able to remain in the country. This help could be for assistance in obtaining shelter, food or water, or employment.
FEMA has stated that they will aid all eligible disaster survivors to help them recover from Hurricane Ian, including individuals considered to be non-citizen nationals and "qualified aliens." FEMA's Individuals and Households Program (IHP) provides financial and direct services to eligible people and households whose insurance is unable to cover their necessary expenses and serious needs. IHP is available for qualified non-citizen nationals and "qualified aliens," as well.
A qualified alien is someone who is a legal permanent resident or "green card" holder, an asylee or refugee whose deportation is being withheld, an "alien" paroled into the U.S. for at least one year, an "alien" granted conditional entry, or a Cuban or Haitian entrant.
If someone does not qualify as a non-citizen national or qualified alien, FEMA has stated that his or her household may still apply for and be considered for IHP assistance if another adult in their household meets the eligibility criteria and certifies their citizenship status, or they are the parent or guardian of a minor child who is a U.S. citizen, non-citizen or qualified alien and they reside in the same household of that minor child.
If you are unsure of your immigration status, you should consult a qualified immigration attorney who can review your situation and advise you appropriately. More information regarding citizenship and immigration status requirements for federal public benefits can be found through the FEMA website.
Housing Instability and Risk of Deportation
The hurricane also underscored another area where the immigrant population was particularly vulnerable, and this area is in housing. Hurricane Ian destroyed housing for countless Floridians, but some of the harder hit residents in our states were those residing in trailer parks, a location that many immigrant families call home.
Shortly before the storm hit, many of the mobile home communities issued notices and orders to vacate, saying that the conditions were too dangerous and ordered residents to leave immediately. Additionally, these orders warned that "no trespassing" would be allowed.  However, many immigrant residents in these communities pushed back, saying they could not leave or had no other place to go or money to pay for alternative housing. They stayed, regardless of the danger the storm presented. Many of these homes were still destroyed or made unlivable by the storm, forcing many immigrants to find shelter somewhere else.
In other situations, especially with immigrants residing in rental properties, the damage caused by the storm was so significant, that they were asked to move out of their homes to allow for the landlord to repair the property.  Many of these landlords failed to give their tenants a returned date or did not let them return at all. These situations also put many individuals in a very tough spot, leaving them with nowhere else to go. If they were able to apply for FEMA aid, these funds are not always enough to cover their bills or housing expenses.
Unfortunately, many landlords have taken advantage of this situation and have resorted to illegal tactics to get families, especially immigrant families, out of their homes.  The renters do not always have many options for other affordable places to live, and they do not know what their legal recourse is in the event their landlord is attempting to force them out.
If you have been served with an eviction notice and are not sure what your rights are, we encourage you to contact a licensed immigration attorney to discuss your rights and to discuss how you can appropriately respond.
For immigrants who have found themselves without a home and living in a shelter, the Department of Homeland Security (DHS) has announced that they will not conduct immigration enforcement activities at sites that provide emergency response and relief following Hurricane Ian. These emergency response areas include sites used for sheltering, sites distributing supplies, food or water, and registration sites for disaster-related assistance. These sites also include those allowing for the reunification of families or loved ones. DHS has also said they will not pose as individuals providing emergency-related services to deport undocumented immigrants. The hope is by forgoing these efforts, affected individuals will feel more welcome to seek this aid, if needed.
This position is a strong shift from the last administration's policy that treated unauthorized border crossing as a criminal act and did not end Border Patrol checkpoints in emergency situations. In these situations, immigrants were put in the position of choosing between remaining in a life-threatening situation or being exposed to immigration enforcement and risking deportation.
Immigration Law Services in Orlando and Jacksonville
Many people believe that if a person is in the United States without legal status (without papers), they will be automatically deported.  This simply is not true.  Most people, regardless of how they entered the United States, are entitled to appear before an Immigration Judge.
The attorneys at Lasnetski Gihon Law have an extensive background in both deportation defense and criminal law. Very few immigration attorneys understand criminal law and very few criminal attorneys understand immigration law. Jacksonville immigration lawyer Jeremy Lasnetski understands both. Whether your deportation case involves a criminal conviction or not, we can help you. Orlando immigration lawyer John Gihon focuses on deportation defense in immigration court.  He is a former ICE Attorney who understands how the immigration system works from the inside. He focuses on deportation cases, and he appears before the Orlando Immigration Court on a daily basis.
Providing Personalized Service for Immigration Cases
If you are seeking a green card or helping a family member obtain one, it makes all the difference to have attorneys knowledgeable in immigration law to help you navigate the complex legal process. The dedicated and experienced immigration law attorneys at Lasnetski Gihon Law are here to stand by your family's side through the process. Don't delay! Contact us today at 904-542-3332 (Jacksonville) 407-228-2019 (Orlando).
Related Resources:
What to do if Ian interrupted an immigration case | WGCU PBS & NPR for Southwest Florida
Florida's immigrants face barriers in hurricane relief under DeSantis policies | Migration | The Guardian
Hurricane Ian shows vulnerability of trailer parks and the immigrant families who call them home | WUWF
This family had big plans for this year. Then Hurricane Ian hit, and they were given a deadline to move out of their home | CNN
Immigrant – Florida Department of Highway Safety and Motor Vehicles (flhsmv.gov)