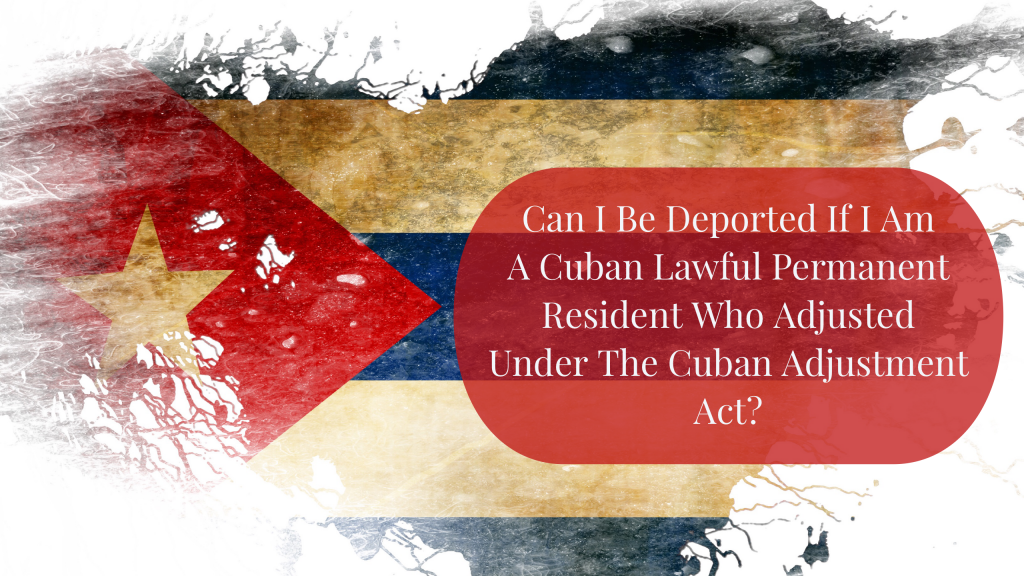 We've had many Cuban clients who had a false sense of security when it came to their immigration status as a Cuban Adjustment Act Lawful Permanent Resident.  They think that if they are convicted of a deportable crime, they will not be deported.  Although historically this has been the case, times are changing and more and more people are and are going to be physically deported to Cuba.
---
Who can be deported?
---
If you were convicted of a deportable offense, even if that conviction was decades ago, you would be subject to being placed in removal proceedings at any point in the future.  In other words, there is no statute of limitations for deporting someone based on a criminal conviction.  If you were placed in removal proceedings and ordered removed, but weren't physically deported to Cuba because of existing relations at the time, you also can be deported based on that prior order at any time in the future.  The only thing standing between you and physical deportation to Cuba is whether Cuba accepts you back and whether U.S. policy to physically deport Cubans becomes more widespread.  So, once relations between Cuba and the United States thaw and certainly if the Cuban government transitions to a democratic government.
---
What should I do if I am Cuban and have been charged with a crime?
---
If you are Cuban and not a United States citizen, you should never plead guilty to any crime, no matter how minor, until speaking with an experienced immigration attorney who practice removal defense (deportation defense).  Even minor criminal convictions could make you deportable and even if you are not immediately deported, you could subject yourself to future deportation once policies change.  Often, immigration attorneys can work with your criminal attorney to negotiate and draft an immigration friendly plea.
Many clients have come to us after pleading guilty to a criminal charge because they want to deal with the criminal charge first and worry about the immigration consequences later.  This is a very bad idea.  Once you enter a plea of guilty or no contest in criminal case, the immigration attorney is stuck with that conviction and their hands may be tied.  You may become deportable and ineligible for forms of relief.  Always consult with an immigration lawyer or a lawyer who practices criminal and immigration law before you plead guilty to a criminal charge.
---
But I'm a good person.  I'm sure the immigration judge would see that and let me stay.
---
Unfortunately, it doesn't usually work like that.  Immigration judges are bound by the law. There are elements that the government must prove and there are elements that you, the respondent, must prove.   In many cases, you either can or cannot establish those elements.  For example, if the government establishes that you have been convicted of certain crimes, you are deportable.  Whether you are entitled to any form of relief depends on certain factors that are outside your control.  For example, one form of relief sometimes available is called cancellation of removal.  You must not have committed the offense within seven years of your admission. That is just one of the requirements.  If the crime you were convicted of was committed within 7 years of your residence in the United States, then the immigration judge is precluded from granting your relief and would have to order you deported, if you were ineligible for any other form of relief.  The immigration judge's discretion only comes into play if you are statutorily eligible for the form of relief.
---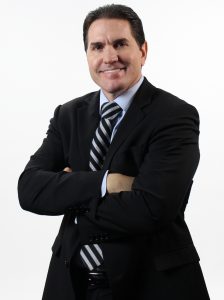 Jeremy Lasnetski is a partner at the Law Offices of Lasnetski Gihon Law.  The firm focuses on criminal defense, immigration and personal injury. Mr. Lasnetski focuses his practice on immigration and criminal defense.  Mr. Lasnetski is the former Jacksonville Regional Vice Chair of the American Immigration Lawyer's Association, Central Florida Chapter and has represented clients in deportation proceedings, USCIS benefit cases, consular processing cases, and more.  He routinely gives presentations on immigration law issues to both criminal and immigration lawyers at conferences and seminars throughout the State of Florida.