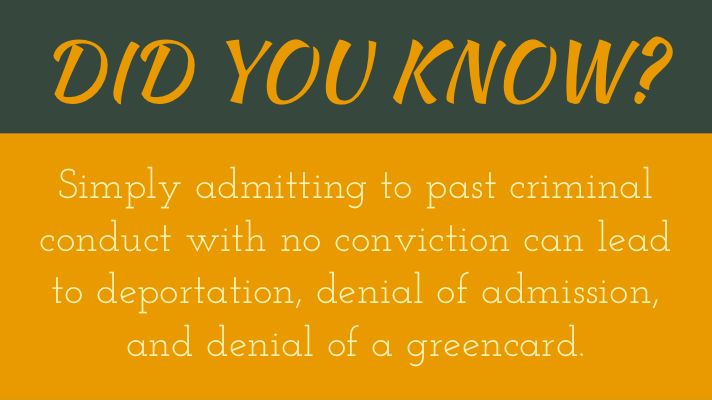 Did you know that the mere admission of past criminal conduct can lead the government to deny your admission into the United States.  It can lead to a denial of a green card.  It can lead to deportation.  Many unsuspecting people believe that admitting to minor criminal conduct that happened years in the past will be forgiven by immigration officials. That cannot be further from the truth.
---
Why would they deny my admission or deport me for simply admitting to past criminal conduct?
---
§212(a)(2)(A)(i) of the Immigration Act states that, "any alien…who admits having committed, or who admits committing acts which constitute the essential elements of … a crime involving moral turpitude…or an attempt or conspiracy to commit such a crime…or a violation of any law…relating to a controlled substance…is inadmissible."  This means that no conviction is required.  Therefore, if you admit to committing certain crimes, you are inadmissible and  you must seek a waiver to be admitted into the United States, or to be able to get a greencard, or to be able to stay in the U.S.
---
What if I admit to a crime that happened a long time ago?
---
Unfortunately, there is no statute of limitations when it comes to admitting past criminal conduct.  So, if you tell an immigration official that you tried cocaine one time when you were young, you could be inadmissible and your application for admission denied.
---
Will they really ask me about past criminal conduct and deny my admission?
---
Immigration officials are trained to interrogate you on past criminal conduct.  They will ask you to make admissions to each element of the offense and they will ask to record your statements and/or write your statements down and have you sign your name so they can use that evidence against you.
Take, for example, this article written by a Senior Legal Instructor for the sole purpose to train immigration officials on how to obtain admissions that could be used to deny immigrants entry into the United States.  The article describes how the examiner should ask cross-examination style questions, as opposed to direct examination style questions, to increase the probability of obtaining the sought after answers.
---
What should I do?
---
That is the difficult question that has no satisfactory answer.  Any non-citizen who is seeking admission to the United States or seeking to adjust status to obtain a greencard is in a pickle.  If you refuse to answer the questions, the application will probably be denied.  If you do answer the question, your application will most likely be denied, and you may or may not be eligible for a waiver.  If you answer the question dishonestly, you are committing a new criminal offense and an immigration misrepresentation.  If you are concerned that there is a past crime you've committed, you should sit down with an immigration attorney and discuss the options and optimal strategy for your particular case.
---
Pretrial Intervention Programs/Diversion Programs
---
One area of concern is when a non-citizen is charged with a crime and offered a diversion program.  A diversion program is where the person agrees to certain terms (probation, community service hours, classes, fines, etc.) and if successfully completed, the State drops the charges.  In the pretrial diversion program agreement, the person is often required to admit to committing the offense.  That way, if the person fails out of the diversion program, the State has the person's admission and does not have to prove they committed the crime.  However, even if the person successfully completes the diversion program, this could be considered an admission for immigration purposes and could lead to deportation, denial of admission, and denial of a greencard.  Never admit to the elements of a criminal offense without first talking to an immigration attorney.
---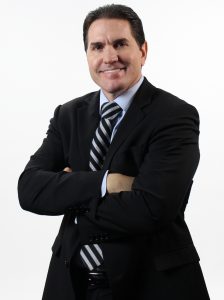 Jeremy Lasnetski is a partner at the Law Offices of Lasnetski Gihon Law.  The firm focuses on criminal defense, immigration and personal injury. Mr. Lasnetski focuses his practice on immigration and criminal defense.  Mr. Lasnetski is the former Jacksonville Regional Vice Chair of the American Immigration Lawyer's Association, Central Florida Chapter and has represented clients in deportation proceedings, USCIS benefit cases, consular processing cases, and more.  He routinely gives presentations on immigration law issues to both criminal and immigration lawyers at conferences and seminars throughout the State of Florida.