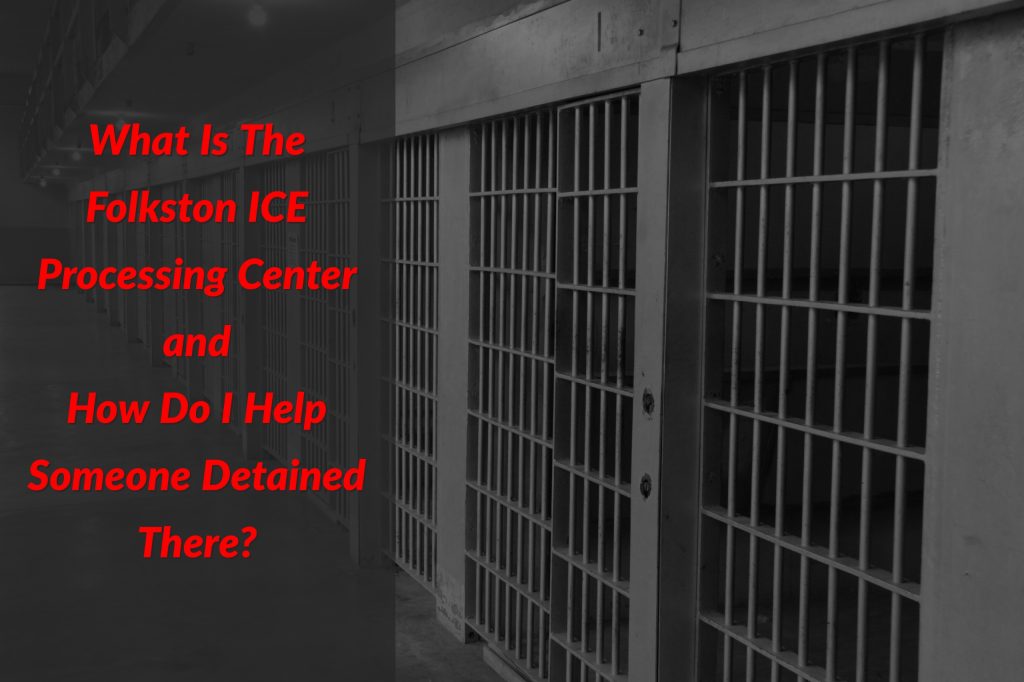 You have a family friend or relative who has made the perilous journey to come to the United States seeking protection from persecution and harm in their home country.  They made it halfway across the world through multiple other countries just for the chance to come to the U.S. and request asylum and a safe, better future.  They either walked up to the border with Mexico and asked for asylum or came over the border and were caught by Border Patrol.  Your friend or family member told the U.S. immigration officers about a history of harm or persecution they've endured in India, Pakistan, Nepal, Colombia, Venezuela, Somalia or one of a dozen other countries currently facing political and social strife.  The immigration officer heard their account of what happened and said, "welcome to the United States, here is an order of removal and we will keep you in jail until we can deport you."
This scenario is happening on a daily basis to hundreds of people seeking refuge and asylum here in the U.S.  People who are seeking protection and safety are detained at the Mexican border and shipped to one of a dozen or more detention facilities across the country to have their immigration cases heard by an immigration judge. One of those detention facilities is in Folkston, Georgia and asylum-seekers are arrested and detained at the U.S. border on a daily basis and sent directly to Folkston.
WHAT IS THE FOLKSTON ICE PROCESSING CENTER?
The Folkston ICE Processing Center is a new contract detention facility where U.S. Immigration and Customs Enforcement (ICE) is now detaining non-citizens.  It is located in extreme southeast Georgia, much closer to Jacksonville and Brunswick than Atlanta or Savannah.  ICE keeps about 700-800 detainees at the facility at any given time.  The detainees are primarily recent border crossers who have come into the country seek asylum, but under President Trump's new policy of no "catch and release," very, very few people who are detained at the U.S. – Mexico border are given a bond or released from custody.  Because of this change in policy, people who walk up to the U.S. border are detained and even if they have a credible fear of persecution in their home country they are denied bond and forced to try and fight their cases while in immigration detention.  
WHO IS DETAINED AT FOLKSTON AND WHY ?
Because of this new Trump policy, ICE needs tens of thousands of new detention beds and dozens of new detention facilities.  That is why immigrants from India, Pakistan, Nepal and others who cross the U.S. border in California are detained and shipped thousands of miles across the country to rural Georgia.  Often they are thousands of miles from friends and family members in the United States who want to help them.  There are typically no attorneys or legal aid groups available to help detainees for free or in their native languages of Urdu, or Punjabi or Gujarati.
CAN PEOPLE DETAINED AT FOLKSTON GET RELEASED FROM CUSTODY?
Fear not, there is hope, with the help of an immigration attorney, if you are detained at Folkston, you may have the ability to seek a bond hearing and if successful, be released from detention to fight your case from the outside.   However, not everyone is eligible for bond and not everyone will be given a bond even if they are eligible.  It all depends on whether you entered the country illegally and were caught, or walked up to the border and asked for asylum.  Bond will also depend on whether you have someone in the U.S. (a sponsor) who has lawful immigration status and the financial ability and willingness to help you if you are released.  It will also depend on whether you pass your credible fear interview or not.
HOW DO I GET A BOND HEARING AND AN IMMIGRATION ATTORNEY TO HELP?
Bond, Asylum and Credible Fear Hearings for the Folkston ICE Processing Center are heard in Orlando, Florida via televideo.  That means, although the people detained in Folkston, Georgia are hundreds of miles away from Orlando, Florida, they appear on a TV in Orlando where the immigration judge, government attorney and often the person's immigration attorney appear and fight about the case.  
If you have a friend or family member, who entered the country illegally, was caught, sent to Folkston, Georgia and passed their credible fear interview, they are likely eligible for a bond.  If they are eligible for a bond, you have one shot to get that bond and choosing the right attorney to help you is very important.  Once the person makes bond, they can transfer their immigration case to any immigration court in the country where they choose to reside.  An immigration attorney can help you change the venue of your case from Orlando to any other court.
Often times, a detainee at Folkston has friends and family in another part of the country.  They may hire an immigration attorney in California or New York or wherever to appear by phone in the Orlando and try to fight for a bond or for asylum for the person detained at Folkston.  Telephonic appearances by attorneys can often be confusing and ineffective.  Having an attorney appear for you live in Orlando can give you a much better chance of proving your eligibility for bond or for asylum.  
If you have a friend or family member detained at the Folkston ICE Processing Center and would like to discuss bond options, give us a call at Lasnetski Gihon Law at 407-228-2019.