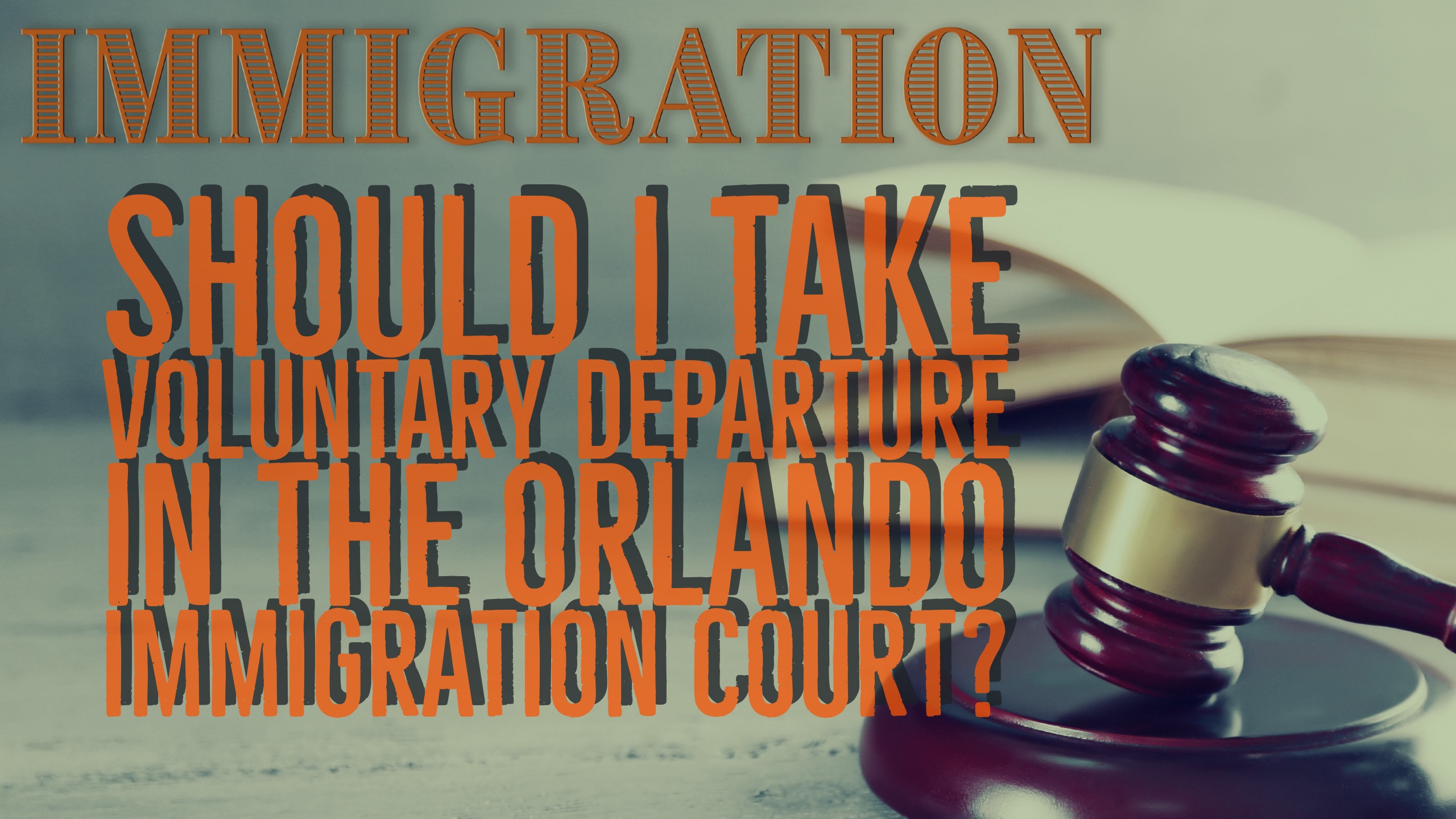 Sometimes, there just is no relief in deportation proceedings that will allow the person to stay here.  Whether it's because of lack of ties to the United States, lack of hardship to U.S. citizen relatives, criminal history, or other factors, you just may not be eligible under any provision of the Immigration and Nationality Act to remain in the United States.  No cancellation of removal.  No waivers. No asylum or withholding of removal.  Your immigration attorney has looked at your case from every angle and there just is no possible way to keep you here.  In those cases, there is often one last option that may have some very beneficial consequences.  It is called Voluntary Departure.  Florida immigration attorneys often request voluntary departure in the Orlando Immigration Court in both detained and non-detained cases.  So what is Voluntary Departure?
---
WHAT IS VOLUNTARY DEPARTURE?
---
Voluntary Departure is a form of relief that allows a person to leave on his or her own rather than under a removal (deportation) order.  Although, the person does have to leave the United States, it can have some really important benefits that help the person lawfully come back into the United States on a later date.
---
BENEFITS OF VOLUNTARY DEPARTURE
---
Voluntary Departure has some very positive benefits that you should consider if there are no other viable options.  For example, a grant of voluntary departure does not result in a ten (10) year bar from reentering the United States.  So, if you are deported under a removal order, you will be denied admission for the next ten (10) years, regardless of whether you are otherwise eligible for a visa or greencard.  If you receive voluntary departure and you leave within the terms of the grant of voluntary departure, if you become eligible to come back, you would not have this ten (10) year bar.
Also, if you are granted voluntary departure and leave within the terms of the grant of voluntary departure and you enter the United States without being lawfully admitted, you would not be subjected to reinstatement of removal, as you would if you were ordered removed by the Immigration Judge.  So, you would be able to go before an Immigration Judge and assert any forms of relief that may be available to you.
Voluntary Departure also allows you leave the United States on your own, while avoiding the stigma of being deported and having a deportation order lodged against you.
---
HOW DO I GET VOLUNTARY DEPARTURE?
---
There are two types of Voluntary Departure.  First, there is Pre-Conclusion Voluntary Departure.  This applies if you ask for Voluntary Departure before challenging your removal.  Second, there is Post-Conclusion Voluntary Departure.  This applies if you have challenged that you are deportable and/or requested forms of relief from deportation.  Unlike other forms of relief, there is no written application that you must file, however, your immigration attorney may file a written Motion for Voluntary Departure.  Each type of Voluntary Departure has it's own elements that you must establish:
Pre-Conclusion Voluntary Departure Requirements
must be able to pay your own way 
must not be deportable as an Aggravated Felon or as a Terrorist
must concede removability
must make no other requests for relief from removal
must waive appeal of all issues
must present a passport or other travel documentation to ICE
Post-Conclusion Voluntary Departure Requirements
must have been physically present in the United States for at least one (1) year immediately preceding the request for Voluntary Departure
must be a person of good moral character for at least five (5) years
must not be deportable as an Aggravated Felon or as a Terrorist
must establish by clear and convincing evidence that he or she has the means to depart the U.S. and intends to do so.
---
WHAT IF I DON'T LEAVE WHEN I'M SUPPOSED TO?
---
There are serious consequences if you do not leave the United States within the time allotted once you have been granted Voluntary Departure.  First, the Immigration Judge is required to issue an alternate order of removal that automatically converts if you do not leave the United States and would raise a ground of inadmissibility under INA §212(a)(9)(A).  There is also a civil penalty that must be between $1000 and $5000.  But probably the most damaging consequence of failing to leave after being granted Voluntary Departure is that you will be ineligible for ten (10) years from Voluntary Departure, Cancellation of Removal, Adjustment of Status, Registry, and Change of Nonimmigrant Status.  Therefore, if you were granted Voluntary Departure and you did not leave but later became eligible for a form of relief, you would not be able to be granted that form of relief for ten (10) years.
There is a an exception to these consequences for victims of abuse.  Under the VAWA act, if you can demonstrate that battery or extreme cruelty was at least one main reason for the failure to depart under the Voluntary Departure grant, you may still be able to apply for forms of relief.  Talk to your immigration attorney about whether you qualify for this exception.
The consequences for failing to depart also only apply where the failure was voluntary.  Extreme hardship or failure of your attorney to notify you of the Voluntary Departure could be argued by your immigration lawyer to avoid the consequences of failure to depart.  However, you should consult with an experienced immigration attorney if you are going to, have, or had voluntary departure in your case.
---
SOME THINGS TO CONSIDER
---
When you leave on a grant of Voluntary Departure, you should keep all evidence of your departure, including airline tickets, baggage claim tickets, etc.  In the future, you may have to prove that you actually left the United States in accordance with the grant of Voluntary Departure.  You can also go to the U.S. Consulate in your home country to request that they confirm your departure.
If you are an arriving alien that was never admitted into the United States and were placed in removal (deportation) proceedings, you may be able to request withdrawal of your application for admission instead of Voluntary Departure.
If you are granted Voluntary Departure by an Immigration Judge and you decide to appeal the removal (deportation) case to the Board of Immigration Appeals, the Voluntary Departure period will not run and you cannot be charged with failing to depart.  The BIA will generally reinstate Voluntary Departure if it expires while a non-frivolous appeal is pending.  If you depart while your appeal is pending, your departure will be considered a withdrawal of the appeal.
---
Jeremy Lasnetski is a partner at the Law Offices of Lasnetski Gihon Law.  The firm focuses on criminal defense, immigration and personal injury.  Mr. Lasnetski focuses his practice on criminal defense and immigration.  He is a Florida Bar Board Certified Criminal Trial Attorney and former Assistant State Attorney.  He has represented clients in criminal court on all types of charges, in both state and federal court.  He is also the former Jacksonville Regional Vice Chair of the American Immigration Lawyer's Association, Central Florida Chapter and has represented clients in deportation proceedings, USCIS benefit cases, consular processing cases, and more.  He routinely gives presentations on criminal and immigration law issues to both criminal and immigration lawyers at conferences and seminars throughout the State of Florida.