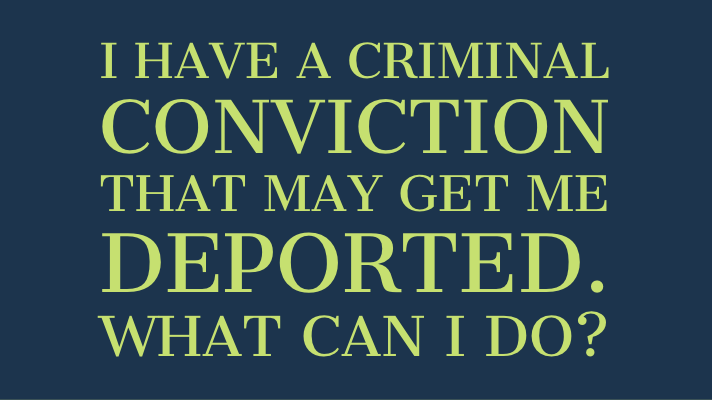 Criminal convictions are a primary basis for deportation or denial of immigration benefits, like greencards, visas, and naturalization.  A criminal conviction can have devastating consequences on your immigration options.  Some convictions may result in deportation.  Some may not.   Immigration is controlled by federal law.  Most convictions are based on state law.  Whether a state conviction qualifies as a deportable offense under federal law is often a complicated analysis that is commonly litigated in courts across the country.  The best course of action when you are charged with a crime is to consult with an experienced immigration lawyer who has criminal law experience.  Then make sure your criminal defense lawyer and immigration lawyer discuss the best options for your criminal case and how a conviction will affect your immigration case.  But what if it's too late?  What if you already have the criminal conviction and are only now being told that you can be deported because of that conviction.  Or what if you are being told that you can't apply for an immigration benefit because of your criminal conviction?
---
Is there anything I can do?
---
Once you plead guilty or no contest or are found guilty by a jury, it becomes increasingly difficult to fight your conviction.  However, there may be an avenue of hope.  The law in the State of Florida allows you to go back two years to challenge a conviction if your criminal defense attorney made certain mistakes.  For example, if your criminal defense attorney did not properly advise you of the immigration consequences of your criminal conviction, you may be able to reopen the case and negotiate a more immigration friendly plea.