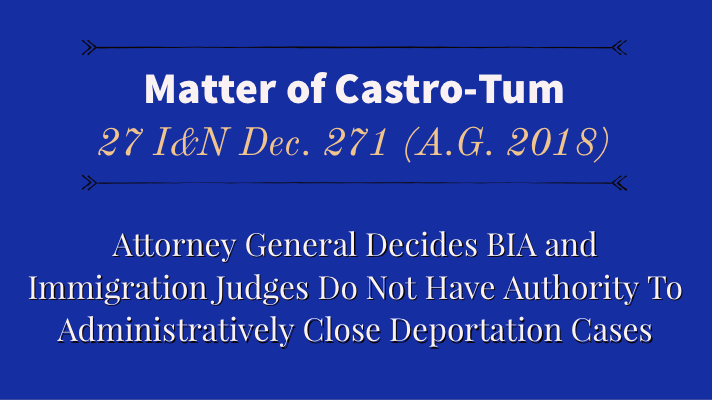 In a disappointing decision by the Attorney General, a decision has been made on whether immigration judges and the Board of Immigration Appeals have discretion to administratively close deportation proceedings.  Matter of Castro-Tum, 27 I&N Dec. 271 (A.G. 2018) was decided on May 17th, 2018 after the Attorney General referred the issue to himself.
---
Why is the Attorney General making this decision?
---
The Attorney General has the authority to refer Board of Immigration Appeals decisions to himself to review. 8 C.F.R. §1003.1(h)(1)(i).  In this case, an Immigration Judge granted several continuances to a juvenile who had been issued a Notice to Appear for deportation proceedings.  The Notice to Appear that was handed to the juvenile did not give a date for a hearing.  Notice of the hearing was sent to the address provided by the juvenile.  When the juvenile didn't appear for court, the immigration judge continued the case and ultimately administratively closed the case.  The government appealed and the Board of Immigration Appeals remanded the case for the Immigration Judge to proceed with the deportation proceedings and to issue an order of removal in absentia if the juvenile did not appear.  The Attorney General then referred the decision to himself.  The Attorney General's decision is binding on the Board of Immigration Appeals, which is the appellate court that rules on all appeals from Immigration Judge decisions.