Is Sale or Delivery Of A Controlled Substance In Florida An Aggravated Felony For Immigration Purposes?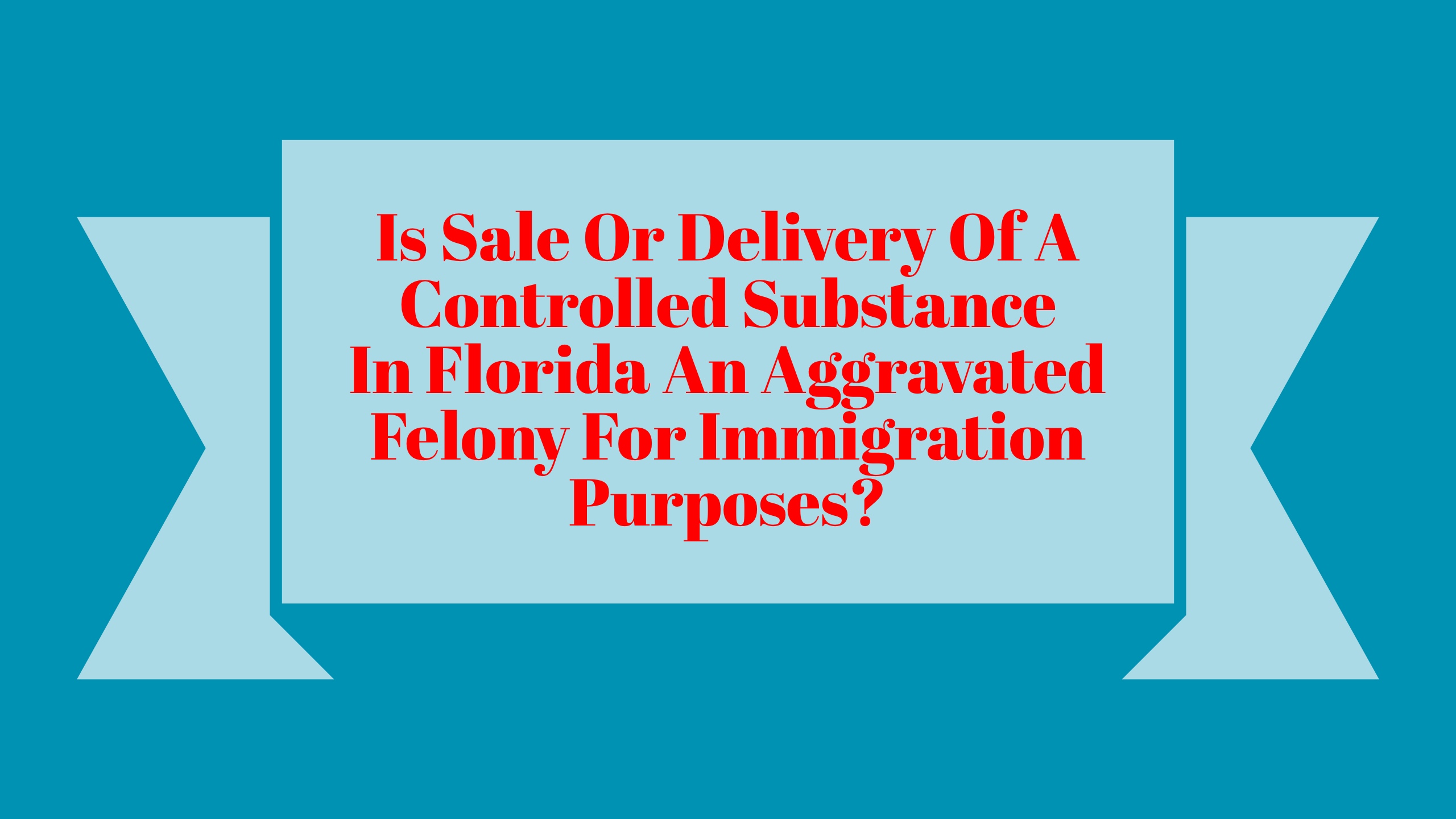 In a recent decision affecting Florida, the Eleventh Circuit Court of Appeals held that a conviction under Florida Statute §893.13(1)(a) for Sale or Delivery of a Controlled Substance is not necessarily an Aggravated Felony for immigration purposes.  In Lannie Gordon v. United States Attorney General, Case 15-13846, the Court held that a conviction under Florida Statute §893.13(1)(a) will serve as an Aggravated Felony only if the conviction included "unlawful trading or dealing," which in turn requires commercial conduct.  It is irrelevant what the police allege happened or even what did actually happen.  The court can only look to the "record of conviction" to determine whether there was "unlawful trading or dealing."  Therefore, as in Mr. Gordon's case, even though he actually sold marijuana in exchange for money, the Eleventh Circuit held that because he pled to "sale or delivery," the conviction could not serve as an aggravated felony.  Had the record of conviction been more specific and omitted "or delivery," then the conviction would have served as an Aggravated Felony.
So, when a non-U.S. citizen is convicted under Florida Statute §893.13(1)(a) and an immigration judge is deciding whether that conviction is an Aggravated Felony, the immigration judge should look to determine under which portion of the Florida statute the person was convicted. Florida Statute §893.13(1)(a) makes it illegal to:
Sell
Manufacture
Deliver
Possess with Intent to Sell
Possess with Intent to Manufacture
Possess with Intent to Deliver
a controlled substance.
The Eleventh Circuit held in Spaho v. Att'y Gen., 837 F.3d 1172 (11th Cir. 2016), that Sale and Possession with Intent to Sell do involve "unlawful trading or dealing" and therefore convictions for Sale of Controlled Substances and Possession with Intent to Sell Controlled Substances are aggravated felonies if they are pled to with specificity.  If the record of conviction contains any of the other elements (Manufacture, Deliver, Possession with Intent to Manufacture, or Possession with Intent to Deliver), then the conviction cannot serve as an aggravated felony because the immigration judge must presume that the person was convicted under the least culpable conduct or element, even if the police report clearly shows the person made a sale for money.  In fact, in Gordon, the Information (charging document) stated that Mr. Gordon did "unlawfully sell or deliver, for monetary consideration, a controlled substance." The Court held that the words "for monetary consideration" were irrelevant and superfluous because they are not part of the elements required in the statute and the person's actual conduct is irrelevant.  The Court simply disregarded those three words and found that Mr. Gordon could have been convicted of unlawfully delivering a controlled substance, which does not require commercial trading.
So, it is critical that a criminal defense attorney understand how to ensure that a client is not pleading to an Aggravated Felony simply by not including elements in the Information and record of conviction, or by making admissions in the record of conviction that would be sufficient to support a finding of commercial trade.  For example, if a defense attorney incorporated the police report into the record of conviction by stating that there is no objection to the facts in the police report establishing the factual basis for the plea.
Finally, it should be noted that even though a Sale or Delivery of a Controlled Substance may not be an Aggravated Felony, it still could form the basis for deportation as a Controlled Substance conviction or a Crime Involving Moral Turpitude.  The Eleventh Circuit specifically did not address whether Mr. Gordon's conviction was a crime involving moral turpitude because the lower court (Board of Immigration Appeals) did not address that issue.
---
Jeremy Lasnetski is a partner at the Law Offices of Shorstein, Lasnetski, & Gihon.  The firm focuses on criminal defense, immigration and personal injury.  Mr. Lasnetski focuses his practice on criminal defense and immigration.  He is a Florida Bar Board Certified Criminal Trial Attorney and former Assistant State Attorney.  He has represented clients in criminal court on all types of charges, in both state and federal court.  He is also the former Jacksonville Regional Vice Chair of the American Immigration Lawyer's Association, Central Florida Chapter and has represented clients in deportation proceedings, USCIS benefit cases, consular processing cases, and more.  He routinely gives presentations on criminal and immigration law issues to both criminal and immigration lawyers at conferences and seminars throughout the State of Florida.