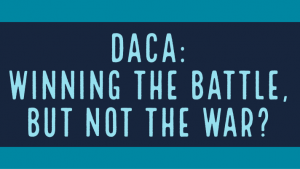 There was a national victory yesterday in the ongoing litigation involving DACA – Deferred Action for Childhood Arrivals.  And while immigrants and immigration attorneys alike cheered the important U.S. Supreme Court decision, the jubilation has been tempered by the revelation of what the decision does and does not actually do for DACA eligible recipients.  So, let's take an in-depth look at the case, the issues before the Court and the Court's holding.
---
What was the actual issue before the Supreme Court?
---
Under the Obama administration, DACA was expanded and a new form of deferred action called DAPA was announced.  Many states filed for injunctions to prevent the expansion of DACA and the implementation of DAPA.  When the Trump administration came to power, the Attorney General told the Acting Director of Department of Homeland Security that DAPA and DACA were illegal and therefore, she should discontinue DACA.  So, DHS allowed for a renewal for those whose DACA was about to expire, but no new DACA applications would be accepted and no other DACA renewals would be accepted.  Multiple petitioners filed for injunctions claiming that the decision was a violation of the Administrative Procedure Act (APA) because it was "arbitrary and capricious." Various Circuit Courts agreed with the Petitioners and the U.S. Supreme Court agreed to hear the case.