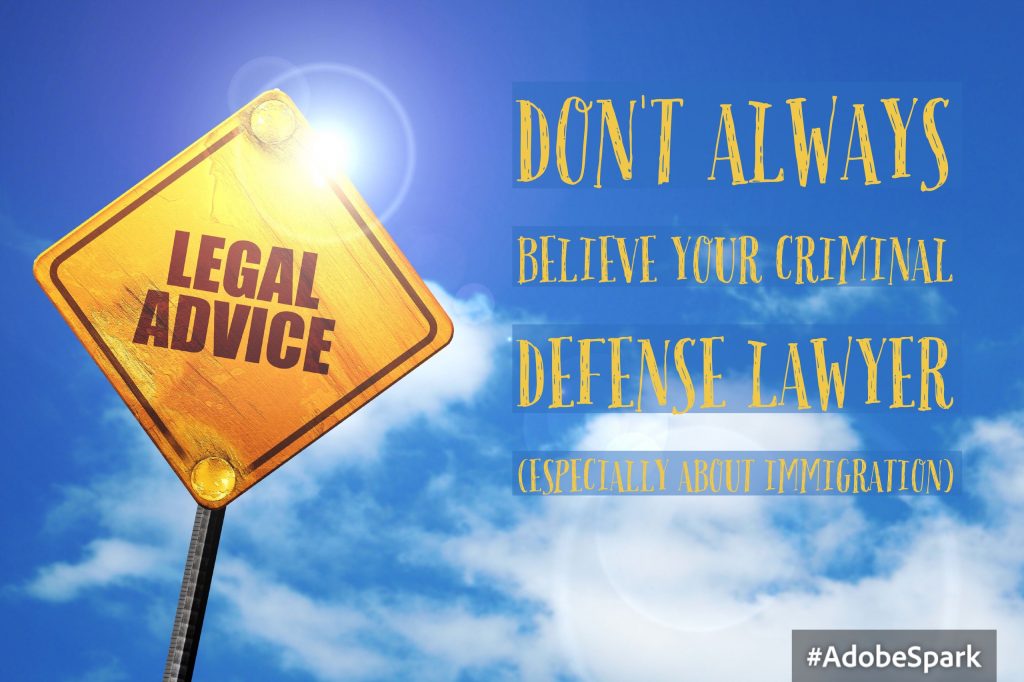 Criminal defense lawyers don't typically know anything about immigration law.  Immigration law is federal.  Most criminal defense attorneys practice only state law in state courts.  Even if they do practice in federal criminal courtrooms, it is a completely different area of law from immigration.  Asking a criminal lawyer about immigration law is kind of like asking a podiatrist about cataracts.  That is unless the lawyer practices in both fields, which is becoming more common.  The problem is that when you ask a lawyer about an area of law they don't know anything about, they may give you an answer.  "Uh, I'm sure this conviction won't hurt you.  You've been here 30 years.  You have a greencard.  Don't worry about it."  And that answer may not only be wrong; it may be dead wrong with deadly consequences.
Case in point – Jae Lee is going before the United States Supreme Court because his criminal defense attorney told him that his plea to Possession of a Controlled Substance with Intent to Distribute would not make him deportable.  Not only did it make him deportable, it is considered an aggravated felony and he has no form of relief to prevent his deportation.  His criminal defense attorney's nonchalant dismissal of such a critical issue has led to a lifetime of catastrophic consequences for Mr. Lee, including being incarcerated for seven years while he fights his deportation.  If you'd like to learn more about Mr. Lee's case, check out this wonderful article written by Manny Vargas from the Immigrant Defense Project.  Mr. Vargas provides a very detailed history of Mr. Lee's case and discusses exactly how Mr. Lee went from thinking his criminal conviction would not lead to deportation to realizing he would not only be deported, but would be detained for many years while fighting that deportation.
Don't get me wrong.  Many criminal defense attorneys do an amazing job of actually looking at the immigration statutes, calling up immigration lawyers, and sending their clients to immigration lawyers.  But many do not.  So, you should trust your criminal defense attorney, but verify.  Trust, but verify.  Ask your lawyer if they have any experience in immigration law.  Go seek the advice of an immigration lawyer. The consequences are too severe for you to leave it in the hands of an attorney who may view the immigration consequences as a collateral consequence of the plea, rather than a potential life shattering experience.